A business meeting with MS13A conference speaker
Views: 25 Author: Site Editor Publish Time: 2022-11-07 Origin: Site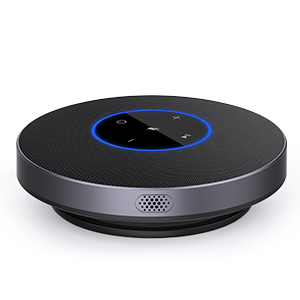 We usually communicate on Microsoft Teams, ZOOM, Skype, Whatsapp in commercial video conferences via the built-in microphone of laptops or mobile phones.It is difficult to pick up the voice as people stand a bit further away to the built-in microphone, and background noise often accompany with it which will degrade the quality of the voice during the meeting.
Today, we have a new conference speaker MS13A to change the game, MS13A, a desktop speakerphone which has a built-in omnidirectional microphone.The magical thing is,when you have a talk in the conference and if we stand within 3 meter radius at any 360 degree, the voice will not be weakened even though you keep a distance. It can intelligently improve the voice and eliminate the background noise with the help of the latest advanced algorithm. For example, if you speak from a distance, it will automatically increase your voice volume so that people on the other end feels you're still not far away.
The products has quite some unique features to offer: a latest digital noise reduction algorithm together with an echo cancellation technology, touch control and RGB light to prompt status,covered with a fabric mesh which is a wear-resistant to protect the front of the speaker.
The MS13A is about the same size as the palm and it could be easily to slide into suitcase for business travel.We could carry it on the way and start a meeting at any time by just connecting to the laptop through USB-A.
Perfect for the business people, user cases can be business meetings, work from home, online education and live streaming etc.
It is a high quality conference speaker you deserve.