GW542B Dynamic Lighting Bluetooth Speakers fits every point you need
Views: 111 Author: Jumping Publish Time: 2023-03-17 Origin: Site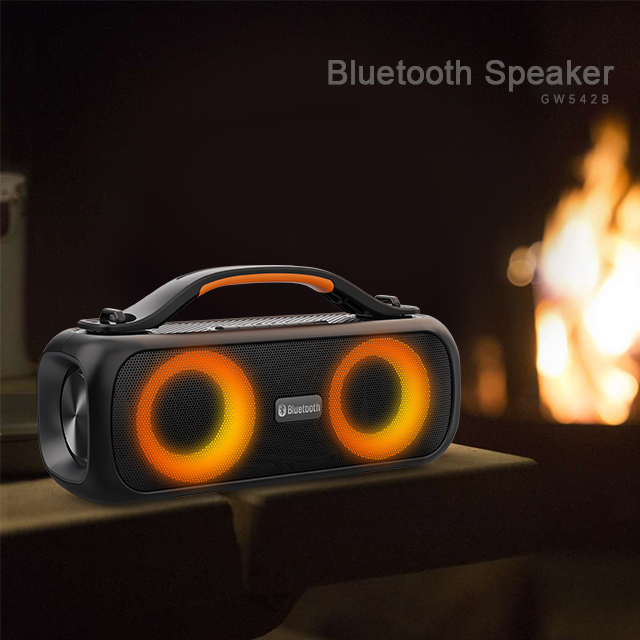 Are you looking for a bluetooth speaker that can give you punchy bass, clear sound, and colorful lights? If yes, you should check out the GW542B Dynamic Lighting Bluetooth Speakers. These speakers are made by Sage Human Electronics International CO., LTD , a leading company in Bluetooth speakers for more than 19 years.
The GW542B portable speakers use Bluetooth 5.0 to connect with your devices easily and quickly. You can play music from your phone, tablet, laptop, or any other Bluetooth device. You can also answer calls with the built-in microphone.
This model is portable and incredibly durable. They have a metal mesh cover that protects them from dust and scratches. Also have a rubber base that keeps them stable on smooth surfaces. Its battery is designed to last up to 10 hours on one charge.
The best thing about the GW542B speakers is their dynamic lighting system. The JBL ring RGB lighting is the more popular element in the markets. This speaker combined with this RGB LED lights that change colors and patterns with the music rhythm, choosing from different lighting modes to match your mood and environment. You can also turn off the lights if you want.
The GW542B speakers are perfect for outdoor parties, camping trips, picnics, or just relaxing at home. They can fill any space with rich and vibrant sound and light up your surroundings with colorful effects. We offer excellent OEM service for all speakers including GW542B. Welcome to send us inquiries for more details.
GW542B speaker is the ultimate speaker for music lovers who want to enjoy an immersive audio-visual experience.