MS12: Double Winner of German iF and Red Dot Award
Views: 24 Author: Site Editor Publish Time: 2022-05-06 Origin: Site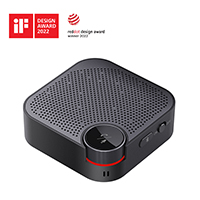 On April 12, 2022, the winners of the world-renowned iF International Design Award were announced, and James Audio's mid- to high-end mini conference speaker won the 2022 iF International Design Award in the telecom categories for its compact size and powerful functions, as well as its excellent product design. One month earlier, this product also won the German Red Dot Design Award.
The iF International Design Award and Red Dot Design Award both are the most influential industrial design awards in the world, and known as the "Oscar of product design" due to the "independent, rigorous and reliable" judging philosophy, harsh selection criteria. They are global trendsetters for industrial design and development. A product that wins the honor means that it is recognized by international authorities in industrial design.
This year's iF International Design Award received nearly 11,000 entries from 57 countries, a record number, and the competition was extremely fierce.
MS12 is a brand-new Bluetooth conference speakerphone with exactly the same size as a wireless mouse. Different from the traditional ones, this speaker is amazingly lighter and easier to operate and connect with other equipment. With a total volume of only 74*74*32mm, it can be put in pocket, bag and other luggage.
Equipped with a specially-designed, metal sound cavity, DSP 4A audio algorithm, advanced Bluetooth MCU and strong digital audio power amplifier chipset. This compact device can deliver better audio experiences. This speaker can effectively pick up the voice in a three- meter radius. In addition. By using ENC and DSP technology and low-delay two-way transmission, MS12 largely enhances the work efficiency of various online meetings and improves the attendees'using experience. This speaker, small yet convenient and portable, is applicable to conferences and other sites and scenarios, such as outdoor activities and home office. which displays its application in entertainment as well as business.
"We are honored to receive this prestigious international award for the M12. Our dream has always been to be able to leverage our boundary-pushing technological innovations,it can improve the efficiency of digital communication in the conference and the experience of participants."Commented by Fred Xiao, the director of Sage Human Electronics,
"At the same time, we continue to promote the evolution of the design language to bring to users with the latest ID design and international quality."